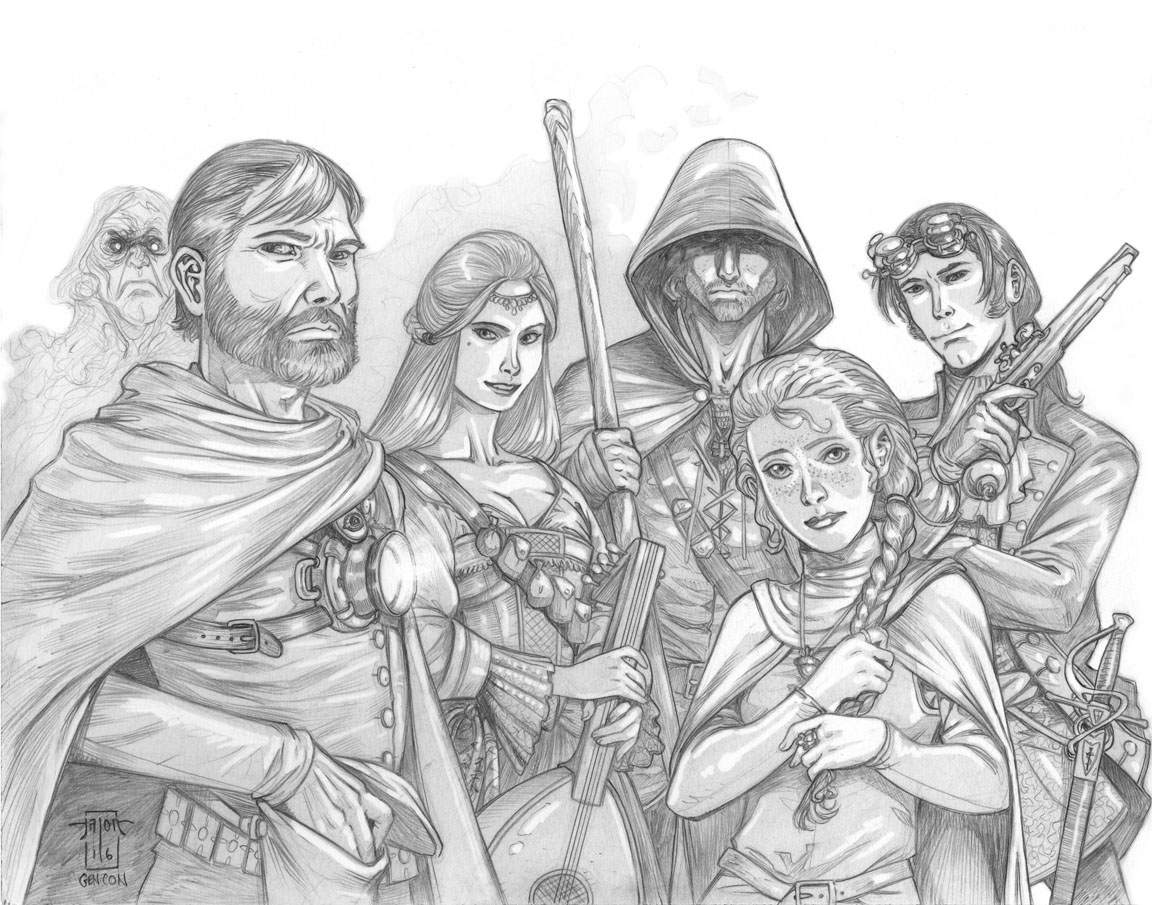 The Mistway - Home of the Twilight's Children Campaign
Twilight's Children Party Portrait by Talon Dunning. From left to right: The ghost of Manfred Taige, Ludovic, Kerri, Leif, Suriana, and Duffy.
---
Disclaimer: This site uses certain images that are copyright Wizards of the Coast, Arthaus and/or TSR, many of which have been altered for the purposes of our campaign. They are provided as an aid to the players, and no illegal use is intended. If asked by the copyright holders, they will be removed.
---
---
Previous updates:
9/10/16 - Party portrait by Talon!
3/16/16 - Session 26! (with commentary)
12/6/15 - Session 25! (with commentary)
3/15/13 - Updates to the House Rules page, including Pathfinder versions of the Knight of the Shadows and True Innocent.
2/26/13 - Session 24! (with commentary) (plus an update to Gustav's page)
10/4/12 - Session 23! (with commentary) (plus a small update to Andres's page)
5/19/12 - Session 22! (with commentary)
2/11/11 - Session 21! (with commentary)
1/11/11 - Session 20! (with commentary)
11/13/09 - Session 19.5 Play-by-post! (with commentary)
8/27/09 - Session 19! (with commentary)
2/26/09 - Items gallery finally complete! Click on Items on the menu frame.
9/26/08 - Session 18! (with commentary) Plus, Minatures Gallery (under characters).
8/1/08 - Updates to Suriana's journal, deatiling what she was up to during Sessions 15 and 16
7/16/08 - Session 17 journal is up! With DM Commentary (player-safe and full spoiler versions)
6/3/08 - Session 16 journal is up! With DM Commentary (player-safe and full spoiler versions)
2/13/08 - Session 15 journal finally up! With DM Commentary (player-safe and full spoiler versions) (Also added player-safe versions of Session 13 and 14 commentaries!)
7/1/07 DM Commentary (in both player-safe and full spoiler versions) for sessions 11 & 12, also spruced up and corrected several of the older commentaries.
6/20/07 DM Commentary (in both player-safe and full spoiler versions) for sessions 9 & 10
4/20/07 (player-safe) DM Commentary for session 8, placeholders for session 15 and 16
1/04/07 (player-safe) DM Commentary for session 7
11/04/06 (player-safe) DM Commentary for session 6
10/22/06 (player-safe) DM Commentary for session 5
10/10/06 (player-safe) DM Commentary for sessions 3 and 4
9/8/06 (DM Commentary for sessions 1 and 2 (player-safe this time!). Suriana's updated journal (on her page), and some typo corrections here and there)
8/21/06 (minor corrections on Sessions 11 & 14. General sprucing up of earlier sessions with links and such)
8/18/06 (Session 14! and some minor corrections on 12 & 13)
7/30/06 (Session 13!)
4/3/06 (Session 12! And updates to some npc pages!)